Cantilevered on Lake Garda , with a breathtaking view of one of the most picturesque corners of Italy: it is the Garda by Bike cycle path inaugurated on July 14th 2018. The Garda cycle path is considered the most beautiful in Europe and, perhaps , of the world. For the fans who have been waiting for it for years, it is "the cyclist of dreams".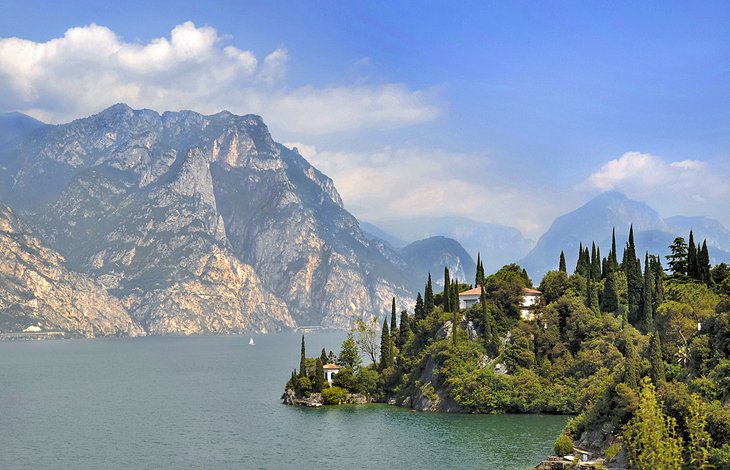 A few kilometers of track (for the moment only 2 kilometers, but an extension for a total of 12 km is planned) that changes scenery behind each curve, like an artist's painting.
2.5 meters wide and illuminated at night, you can walk as well as ride a bike, but because it is also pedestrian, you must respect the 10 km / hour speed limit.
The track starts from Limone sul Garda and reaches Capo Reamol, in the Brescia area, on the border with Trentino Alto Adige. "This track is part of a larger single project, that of the Garda pedestrian cycle cycle" , explained the Mayor of Limone Franceschino Risatti in an interview with SiViaggia a few weeks before the inauguration "by 2030 will be a single interregional cycle path " .
WATCH THE GALLERY OF THE GARDA CYCLING TRACK
To achieve this, it took a company of acrobats like the GeoRock from Trentino who used harnesses, cables and even helicopters to hook the thin wooden and steel gangway to the rocky walls of the mountain at 50 meters above sea level. lake. Even the visual impact of the structure on the environment is minimal. "They did a crazy job , " said Risatti. According to Antonio Martinelli, councilor for public works, interviewed a year ago by SiViaggia, "You will have the feeling of 'walking' on the water by bicycle" .
Once completed, the Garda cycle path will cover the entire circumnavigation of the lake, joining the Trentino shore to that of Verona and Brescia in a single itinerary of 140 km. It will be connected with the Ciclovia del Sole – an itinerary of over 2,000 kilometers, which links the Brenner with Santa Teresa di Gallura, in Sardinia, and which crosses 11 regions – and with the Ciclovia del Vento (the Po cycle route), in a network of routes that will embrace the stretch of water by joining the shores of the lake and, in the coming years, will offer a long-distance network on a national scale of over a thousand kilometers.
The work has become a leading tourist attraction for the Upper Garda area, given the continuous increase in interest for sports holidays. In the coming years it will transform the Garda area into a real paradise for cyclists all over Europe, who already visit the lake every year.